Space within Muslim cultures was historically perceived to be 'alien' and 'exotic' and was depicted through colonial imagery by western men. Muslim women were often portrayed as exotic, sexual beings only waiting for their male sexual partner in their 'harem'.
Depicting my subjects within the privacy of their own home springs from trying to challenge such perceptions and show a view that many people often do not get access to. This series aims to show the similarities amongst their spaces, their colourful, fun, environments that also have the ability to act as their safe space. Whilst also sharing their own personal experiences with space and the way they have been perceived in the past. With particular emphasis on each subjects cultural background, aiming to progress discussions around the Islamic Religion, women and the multi-faceted experiences, beliefs that these women carry within themselves.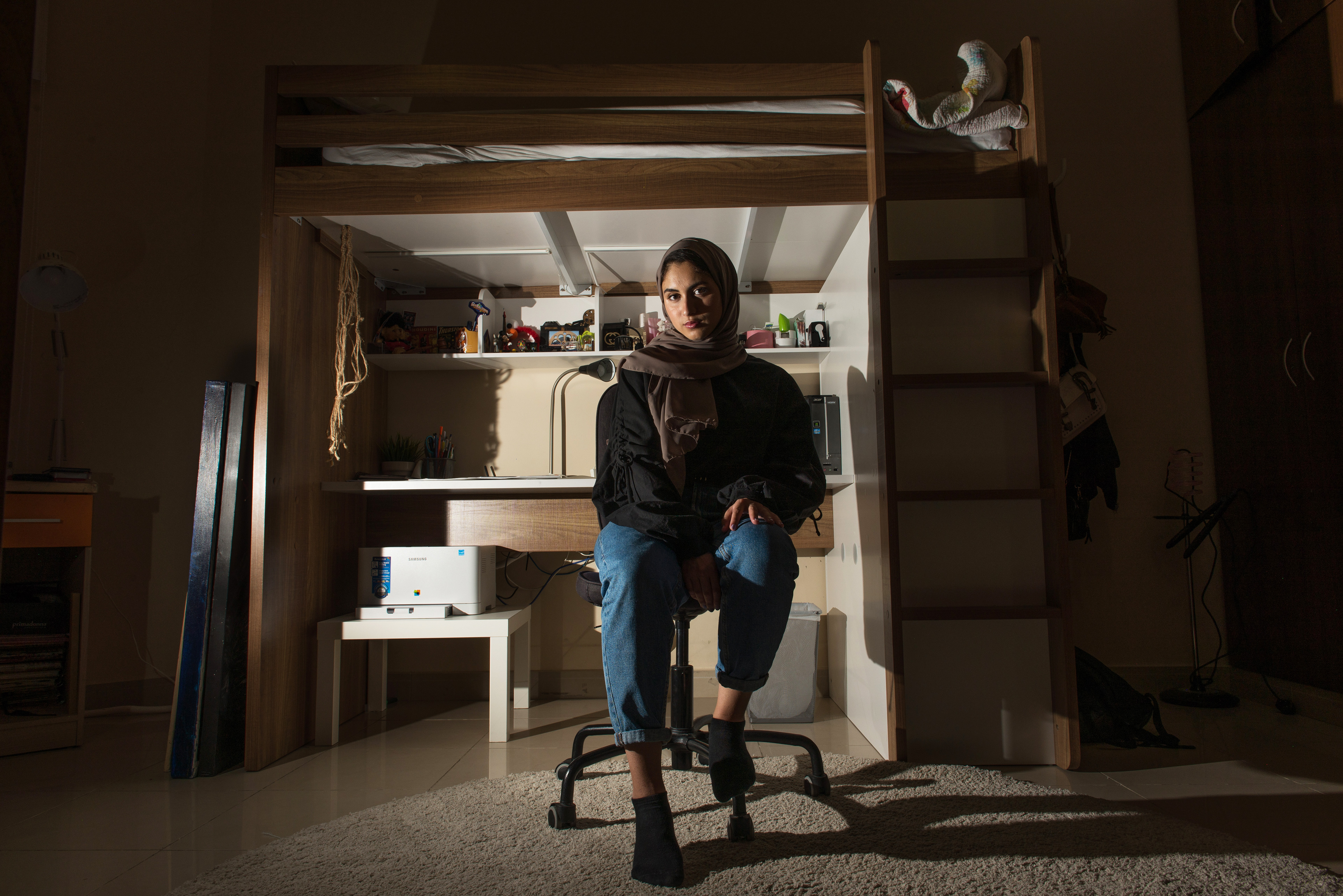 Farida Abdunabi 19. Dubai, U.A.E
Space is more than a physical element. It is a personal and private part of every human, and as a Muslim woman, I am no exception. Space is where I feel most confident and comfortable. It is where I am allowed to fully be myself and express my emotions freely without the fear of judge- ment. Space to me is very private and personal, thus I only allow very few people who I value and love into my space. Allowing you into my space means I am allowing you to see my vulnerable side, which I do not show many people. As a Muslim woman, space to me is more personal than most. It is where I unveil, which the public eye do not see, so privacy is an important part of space to me. The veil is not just a physical piece of clothing on my head. The veil is a representation of my faith. It is my manners, my respect, my morals and the way I carry myself . When I go back to my space, I unveil physically, removing everything that the media has used to alienate me, leaving only my vulnerable self. Someone who looks like everyone else, with the same emotions, same moral, and same physical appearance.
No different. Without the veil, I am seen as normal and treated as an equal. Once I put the veil, I become a "threat to society" and receive islamaphobic comments whilst in public. The public space can be a place of negativity and judgement as a result of the image painted by the media to alienate us and create a division and lack of acceptance in our society. I do not blame individuals who have made rude and negative comments. Most of the time is is due to a lack of understanding, and I can forgive that. There is a need to raise awareness to be able to move forward and have acceptance within our society. Allowing you to have an insight into my space may be one small step to this acceptance.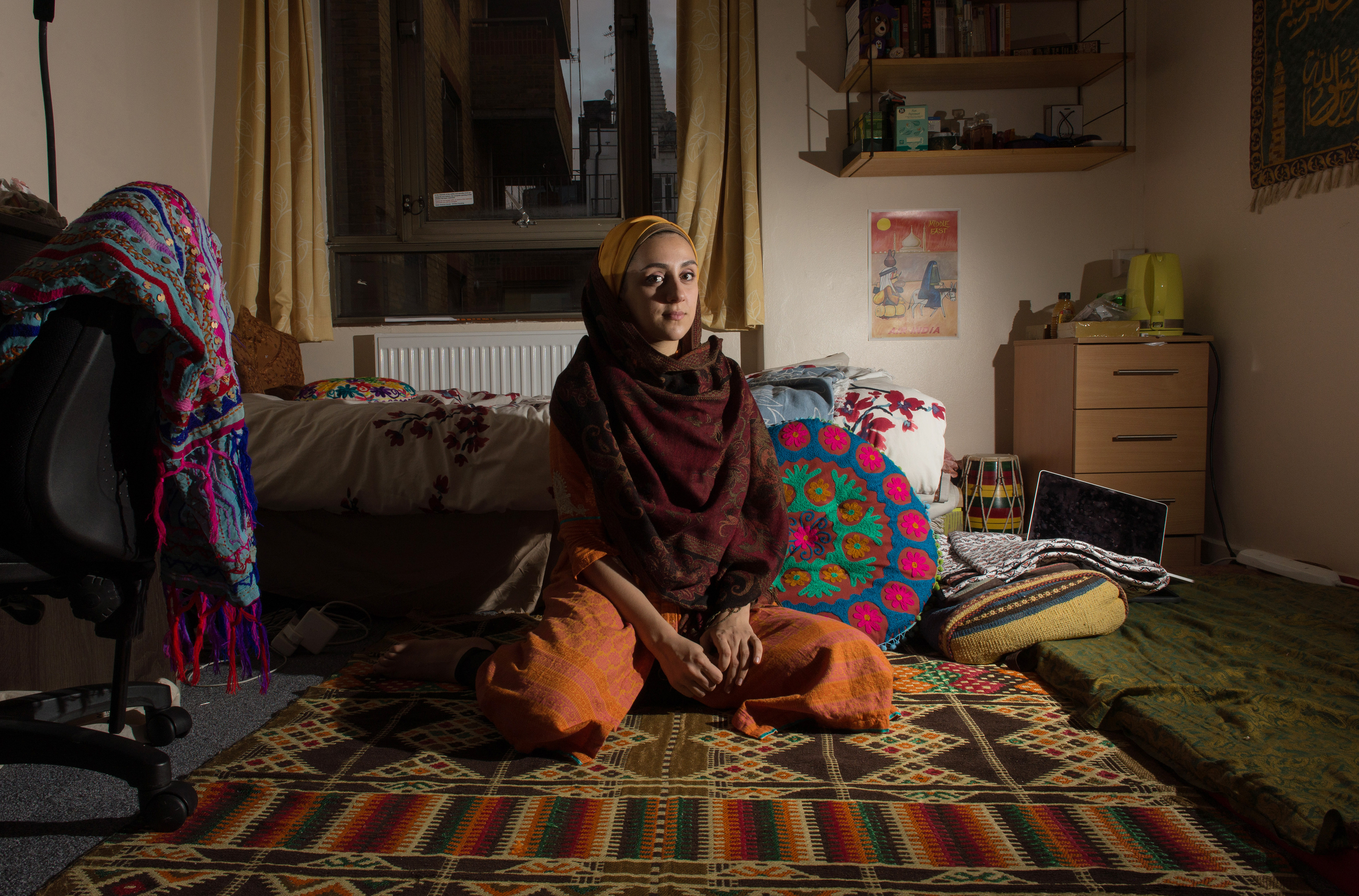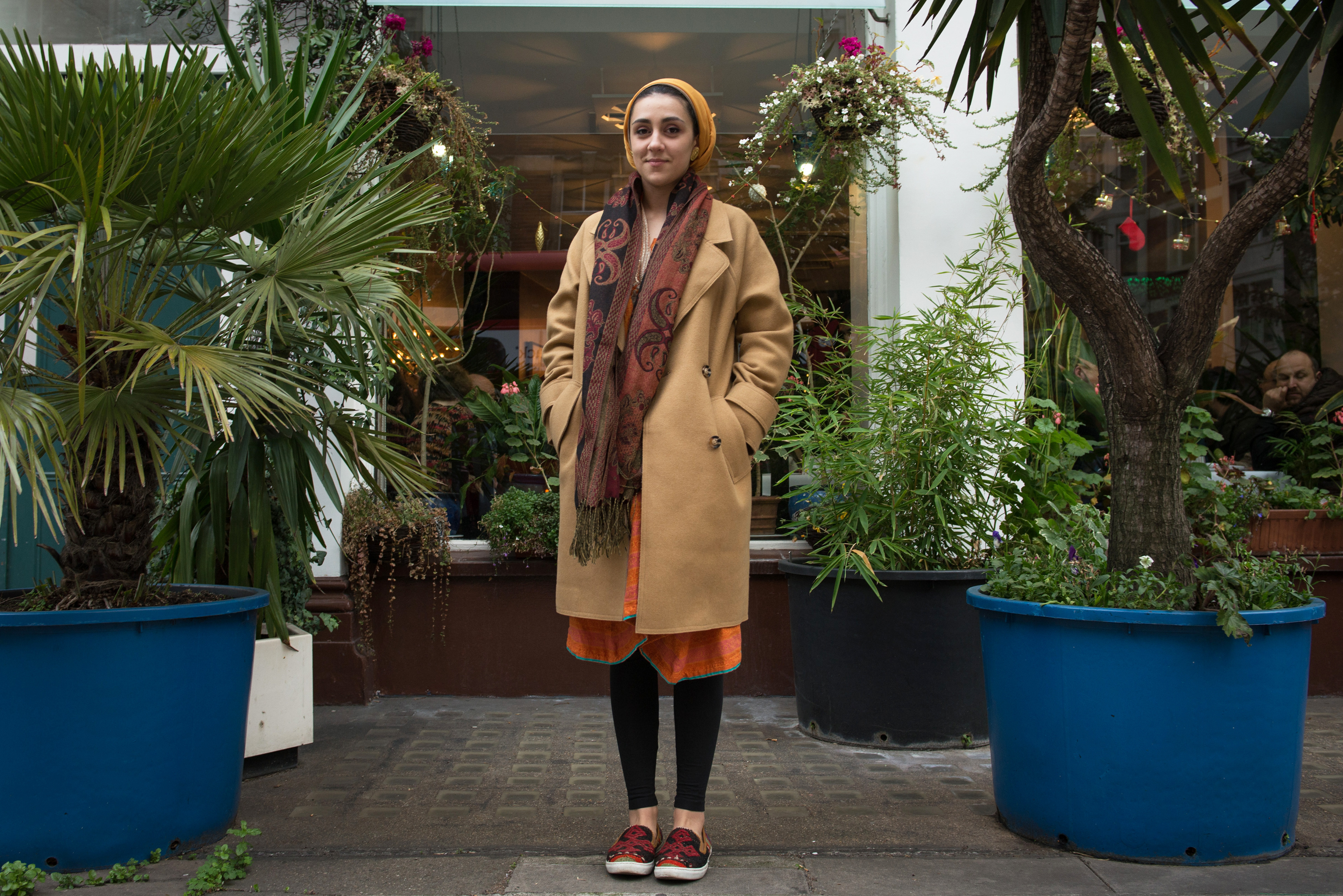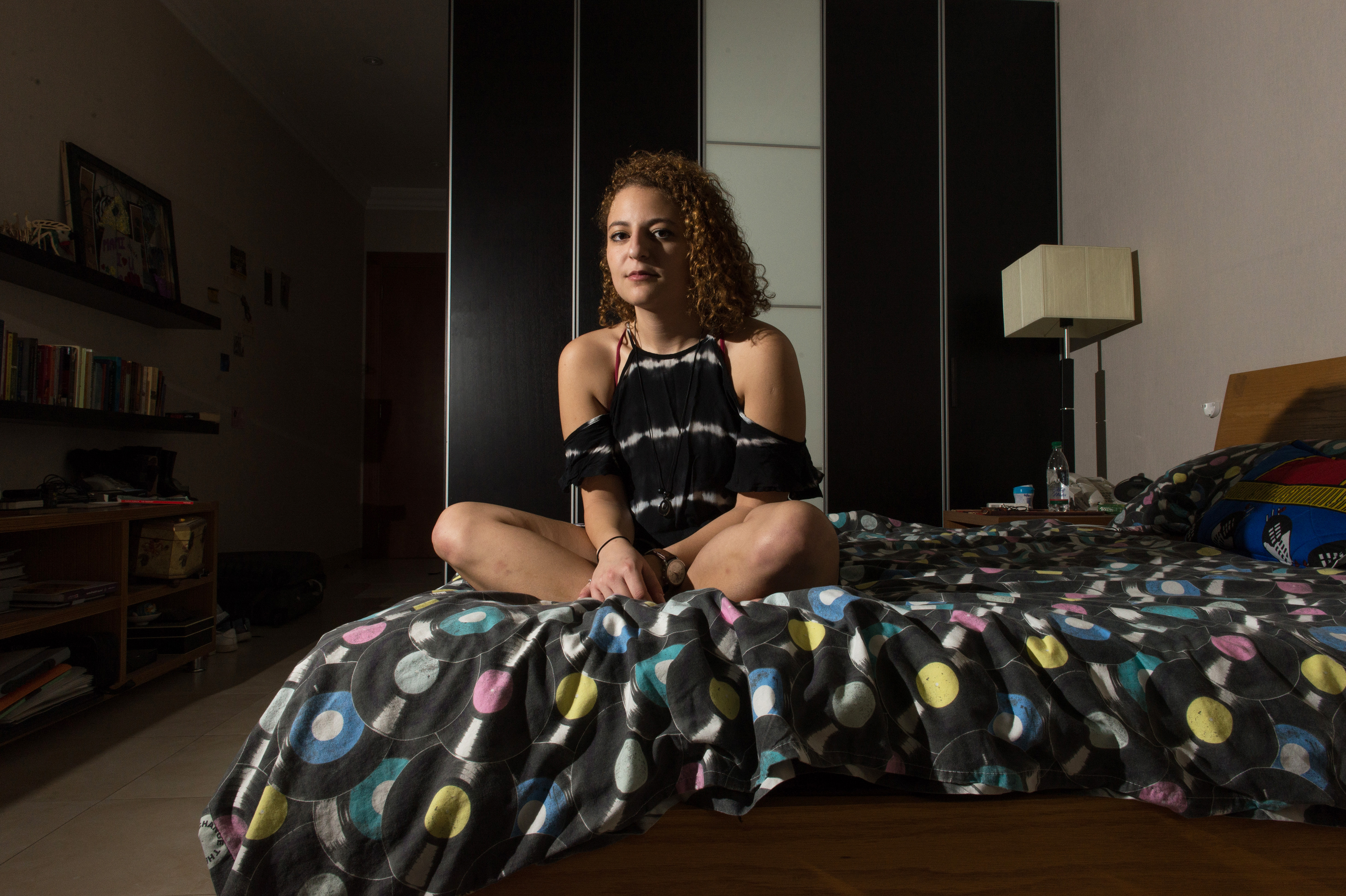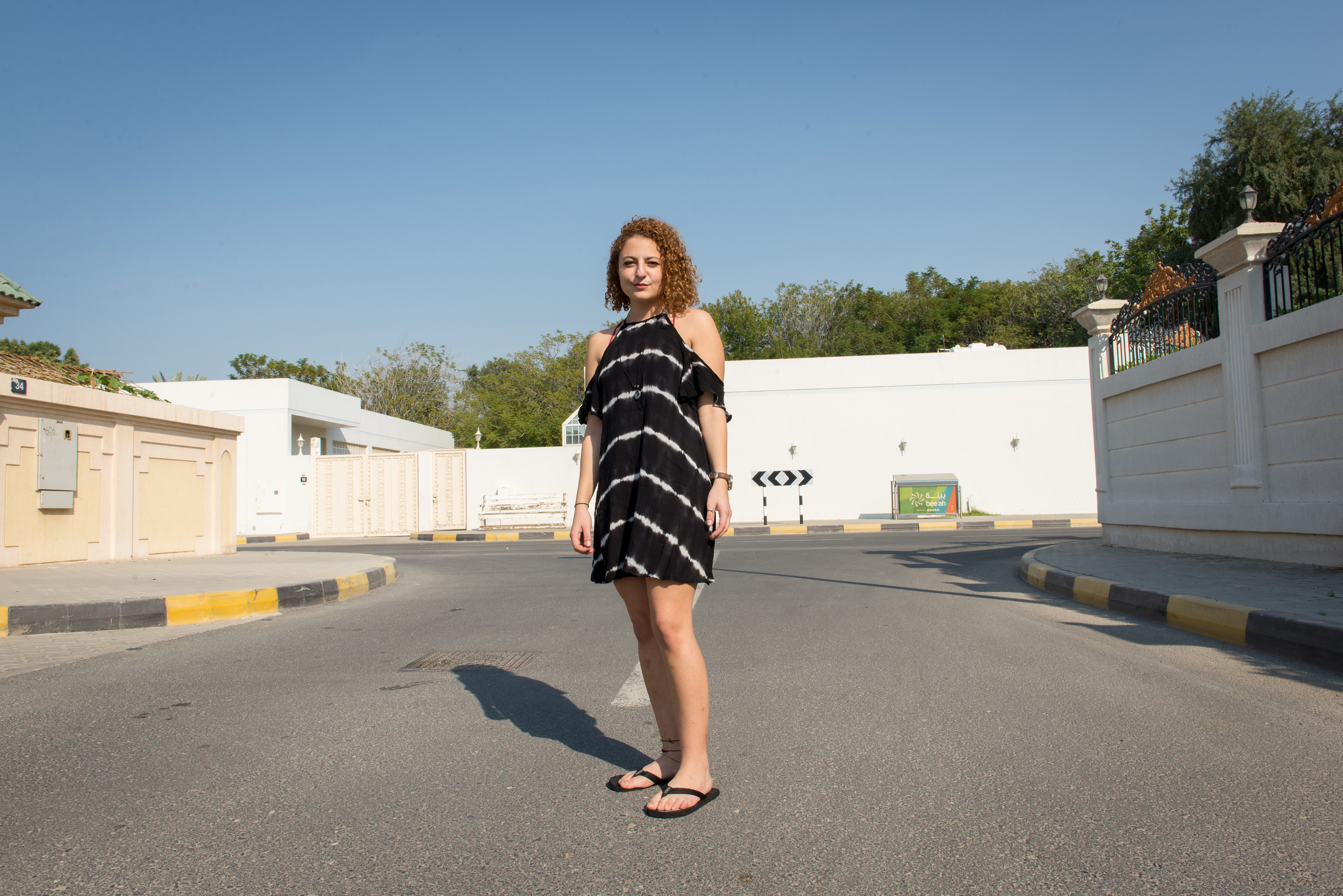 Salma Serafi, 21, Sharjah, U.A.E
The words autonomy and privacy come to mind when I think of space. I'm aware of the fact that a persons bedroom (women/man) is a persons most private space. Because I live in England and have two bedrooms, I can see really clearly between a woman's space in our middle eastern society and a woman's space in a more liberal setting. My bed- room in UAE does not really feel like my own, we have always been taught by our mother that leaving our door closed was frowned upon, which I now realise is very different from in the west (it's nor- mal to have your door shut). I still sometimes feel weird leaving my door closed at night or for too long when my family are in the house, it's to do with suspicions that I am doing something "wrong", I think it's a result of internalised misogyny that a lot of Arab women experience. I don't really have much privacy when I am here because of that and so my space doesn't really feel like my own space. I think sexism is apparent in a lot of subtle ways like this in our societies (a basic right like privacy shouldn't be expected even from a progressive Muslim family). It's interesting because I never even became aware of this until I moved abroad and experienced what it felt like to have real privacy and autonomy. Growing up it felt normal to have people come in and out of my room freely, and even felt bad keeping my door shut too long.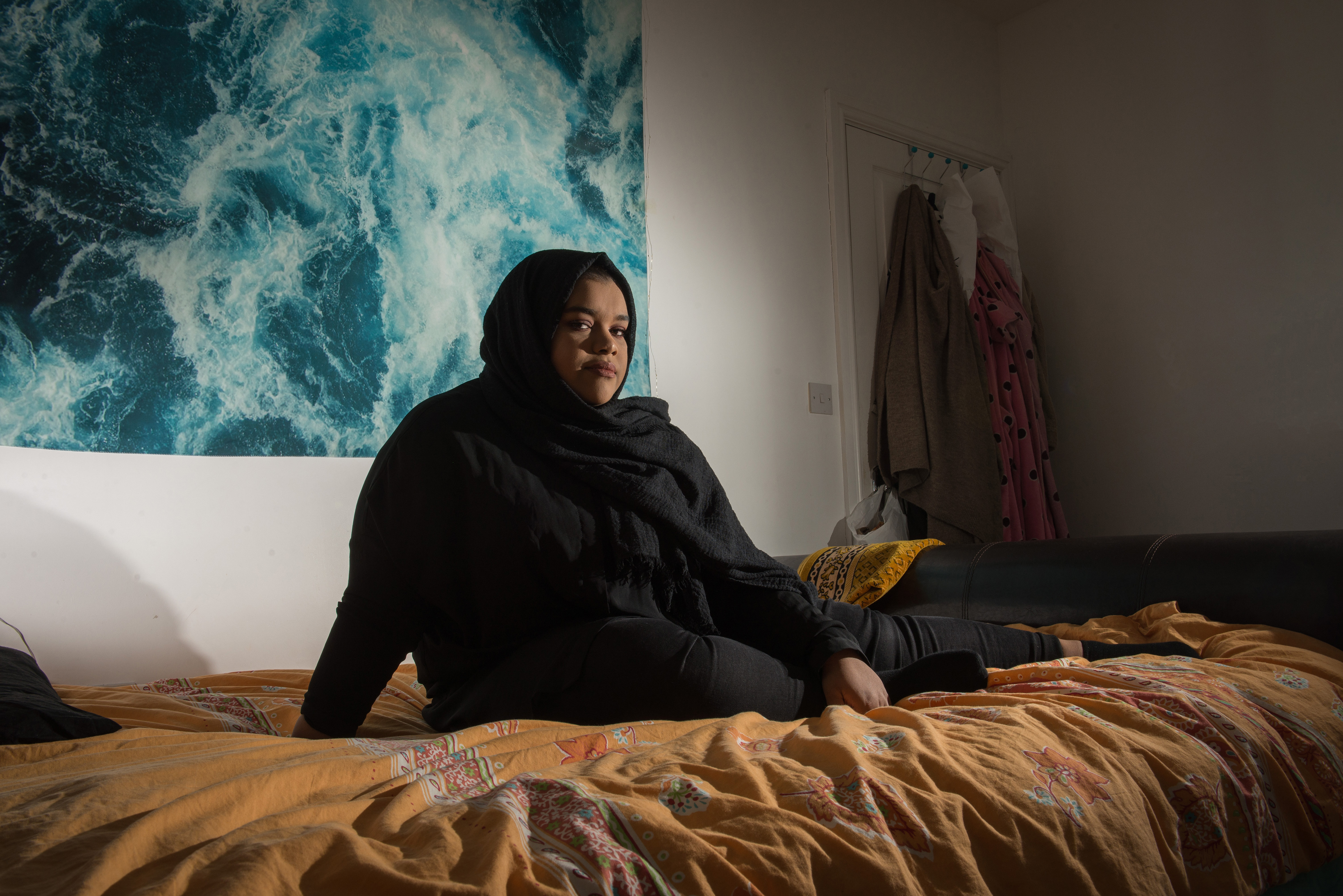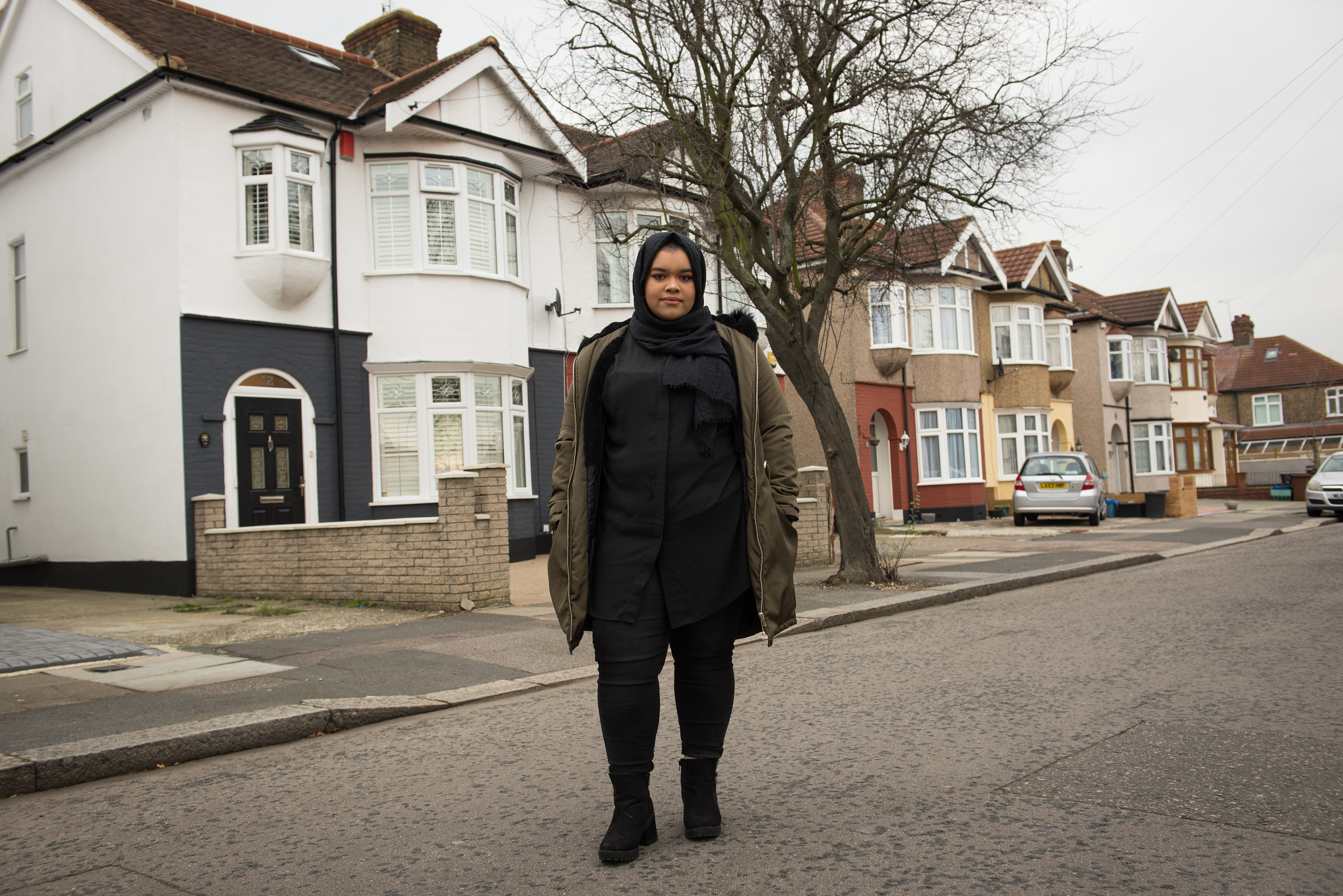 Taniya, 20. Illford, London
My bedroom is my safe space. It's a place that I can completely be myself. Where it doesn't matter what the rest of the world perceives me as, whether that be family, friends or strangers on the street. I value this space so much more because I haven't really had much personal space growing up, having had to share with siblings up until only this year. 
In terms of being a Muslim woman and space, my room isn't the place that I'd bring male friends, not just because I'm a hijabi, I can keep my hijab on, but because of the fact that I've grown up with the notion that a guy who is not family shouldn't really have such access to you because females have such a high status in Islam. And where that may seem oppressive to those who don't grow or live with it, the whole point of it is to further elevate your status as a woman in Islam. Why should any man have free access into the spaces that are mine? And see me 
in a way that only people close to me should? Your space is yours to do with what you please, and mine is for me.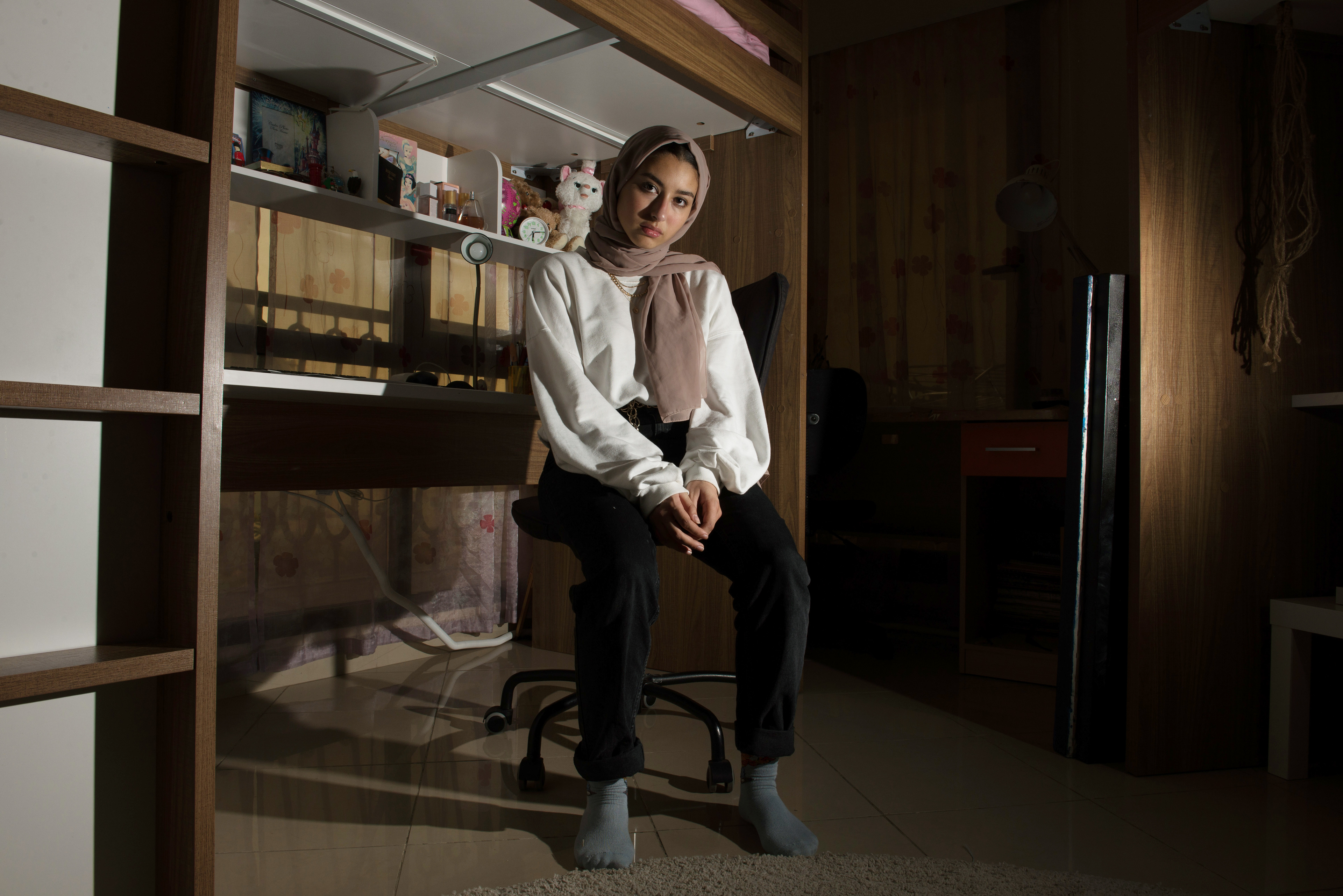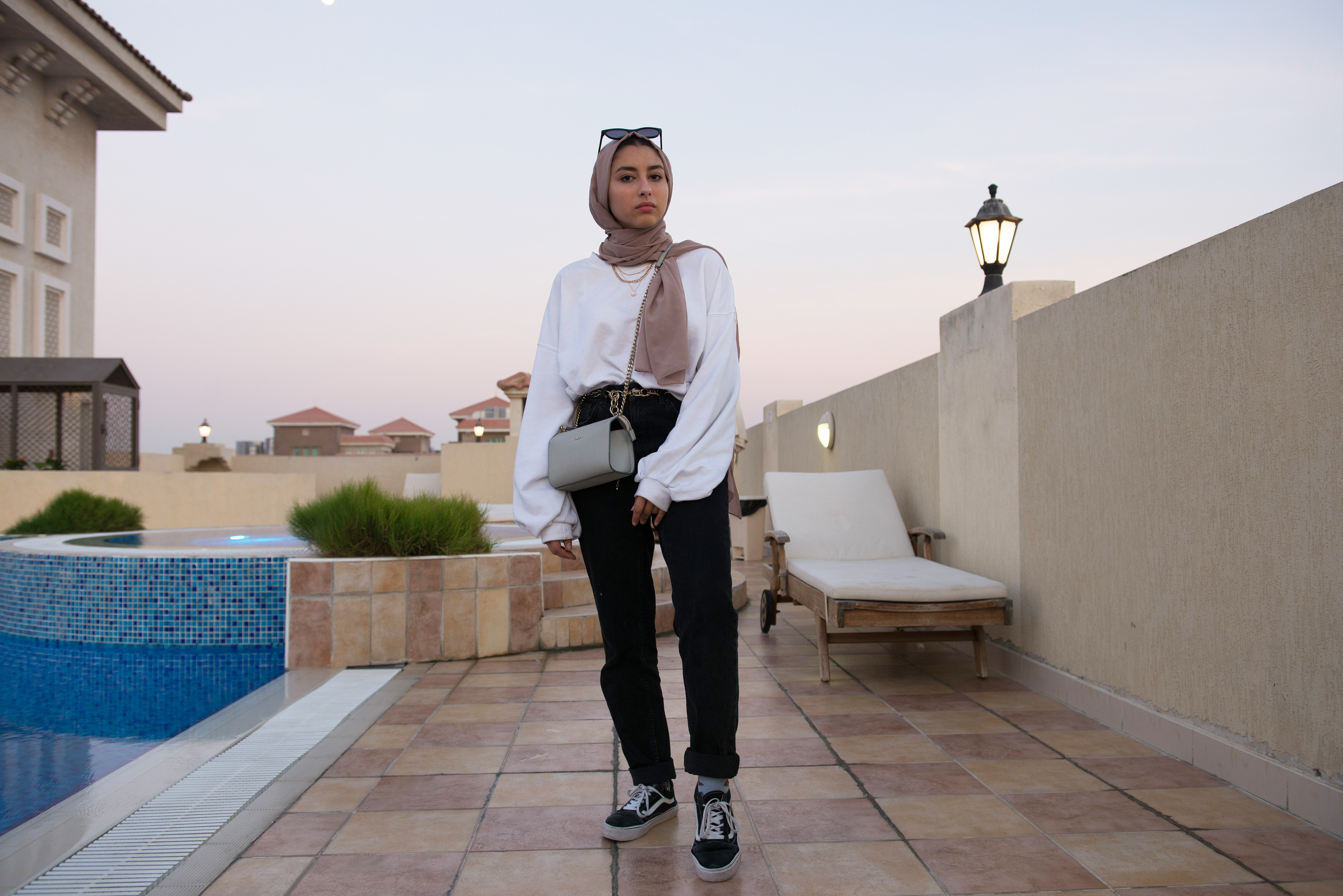 Alla Abdunabi, 18. Dubai, UA.E
My space is a place where I can be comfortable just like anyone else. My private space is a calm place where I can either get work done or relax. My space is different to a non Muslim as men aren't allowed to see me in my private space without my scarf
on. Muslim women are perceived in a bad light in public. There are bad connotations surrounding Muslim women that have been created by the media or by the lack of knowledge on this topic. The scarf is seen as a barrier between the general public and Muslims, when in reality there is no barrier, we are just being alienated. Public space for me is a place where I present the best version of myself. I have gotten negativity or islamophobic comments in the past despite wearing the scarf in an Arab country. Many people have come asking me what is on my head and although it is said in a rude disrespectful way, it shows the lack of knowledge on the head- scarf. I have gotten comments calling me a terrorist or making claims that I must be depressed that I wear it. These comments show how we are perceived as aliens and how we are vilified.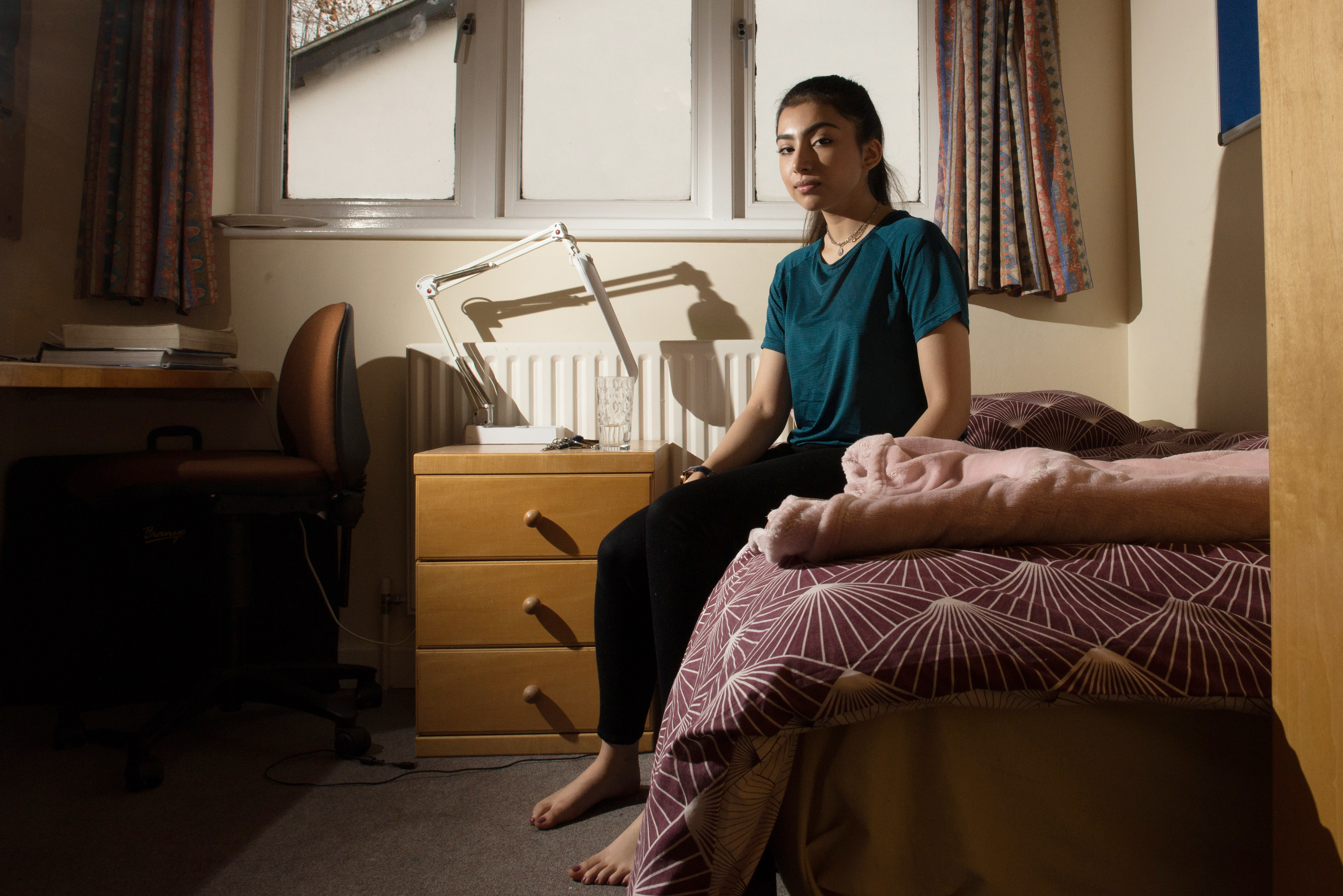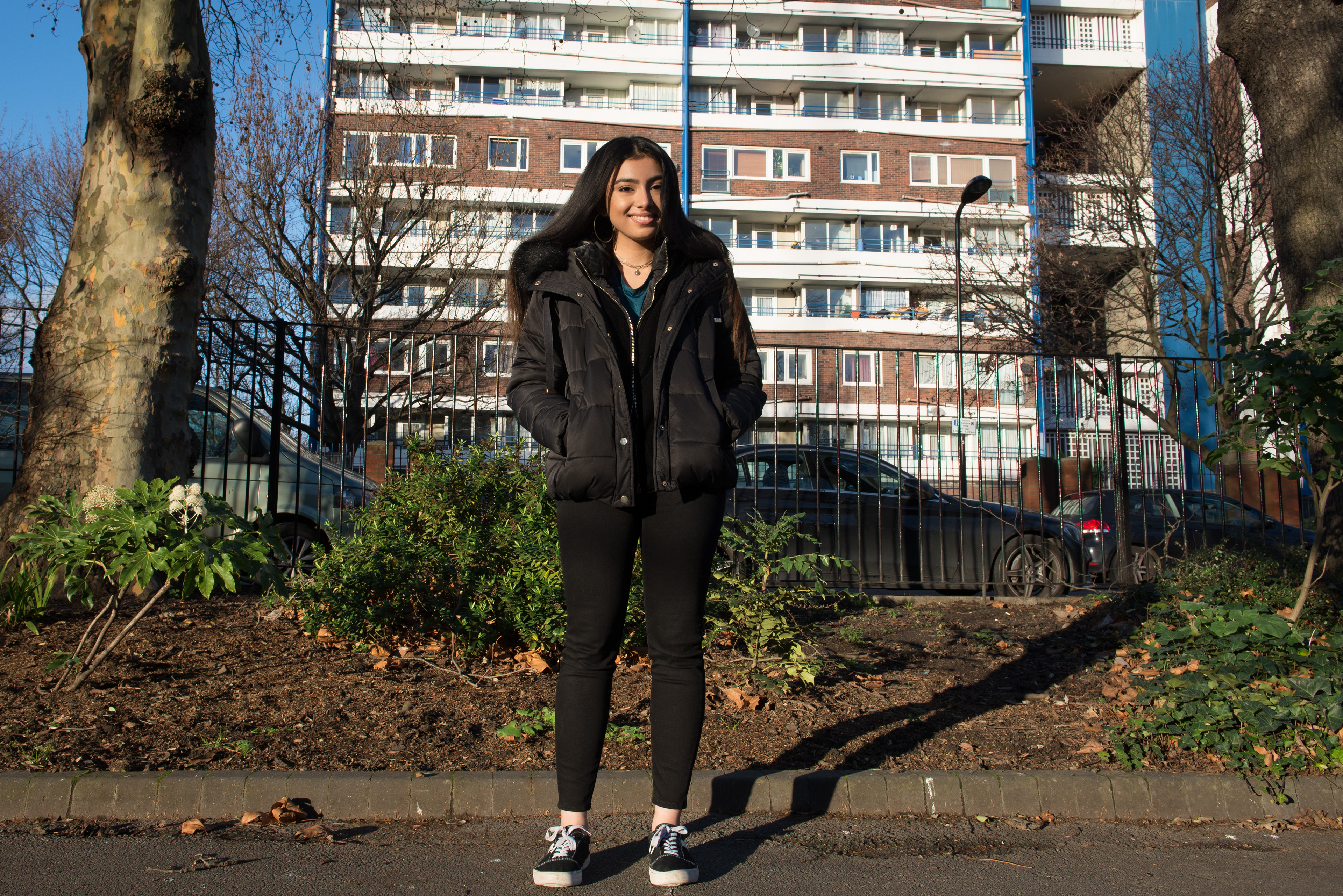 Suman Shams, 19. Hackney, London
Culture spans such a large part of the Islamic world that it simply cannot be separated from the religion. As a result, the cultural interpretation of the religion inevitably influences the way many Muslim live their lives, and use their spaces. Coming from a liberal Pakistani family but a society holding onto its traditional values, the way I use my space changes greatly from the situations I am put in. My bedroom has always been relatively private, as only female friends and family and men of my family have been allowed into the space. This has never been an issue in my eyes. If anything, I view the lack of male influence in this particular space as a way that the religion and the cultures that follow it give women autonomy over their spaces. It is a gesture of respect, that the female sphere is a place of privacy, security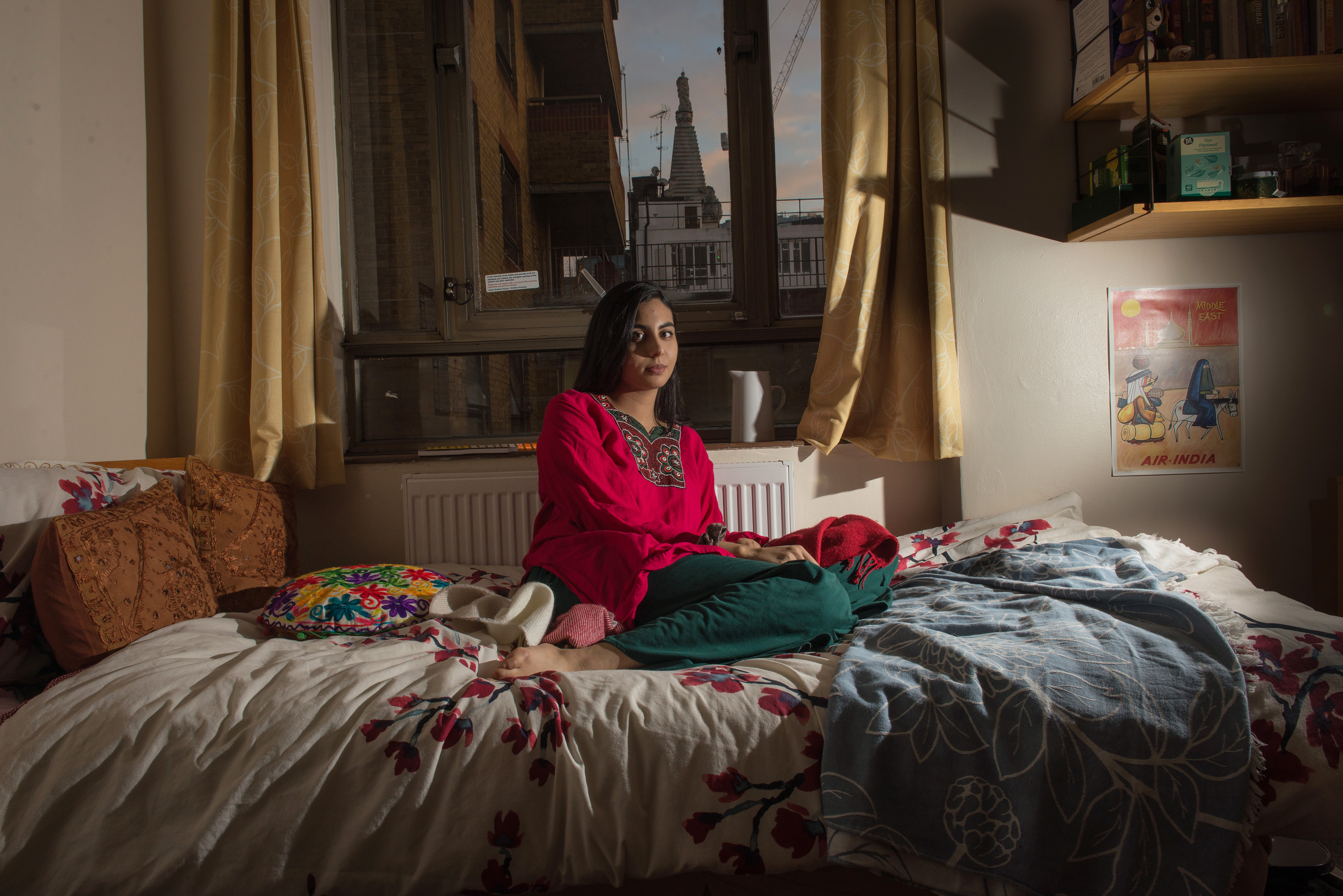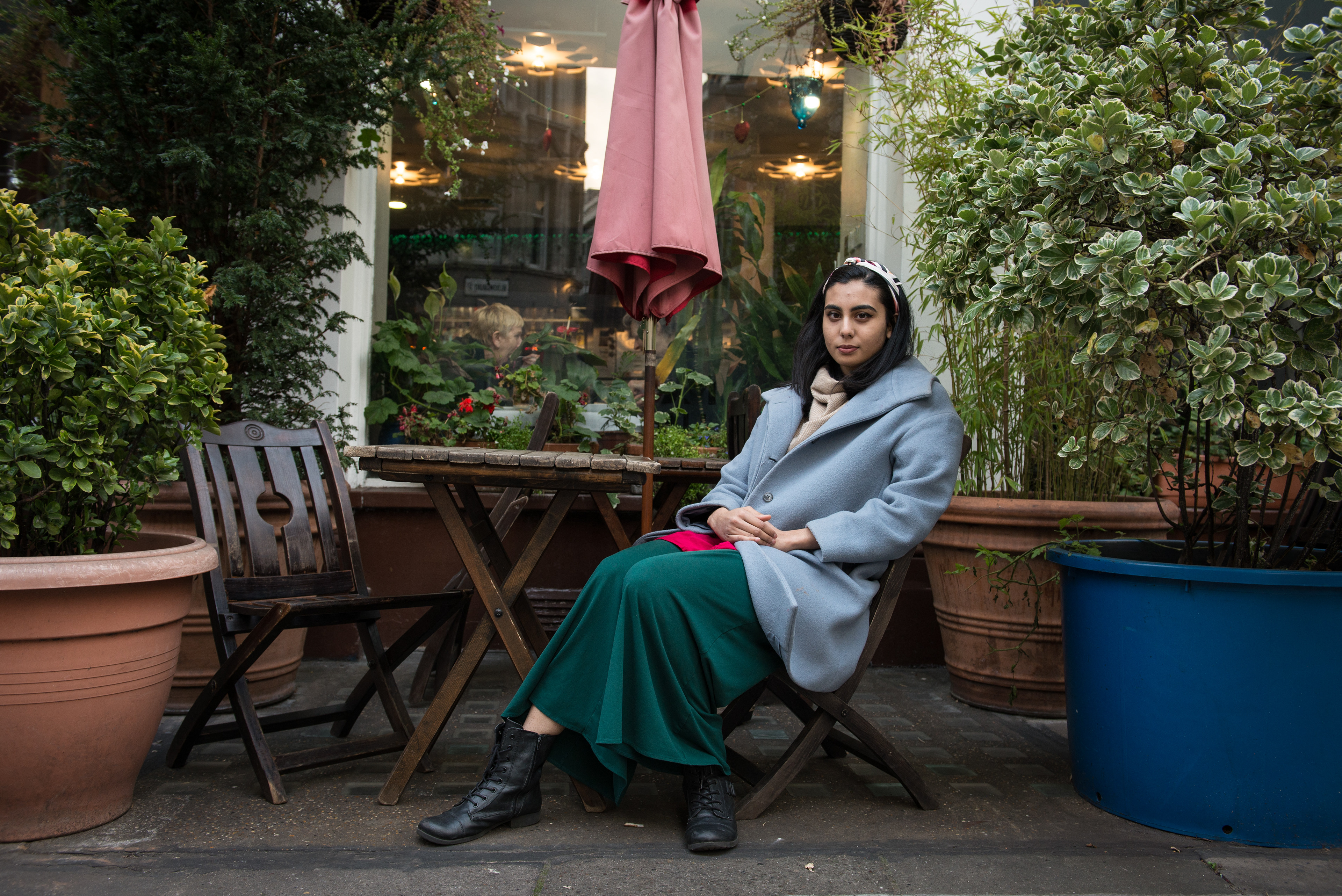 Space for me has never been private. Growing up in a South Asian house the moment everyone is awake your door stays open and people mill in and out of your room, your parent's room, or your grand- parent's room. Although it's frustrating sometimes 
I find the unspoken open door policy comforting and well intentioned at its core. To me, rooms come alive by the conversations, gossip and laughter that reverberate around the walls. I still remember all those lazy Sundays where everyone would sit in 
my grandmother's room, the hum of a Bollywood movie in the background, my Aunt and grandma gossiping, my cousins playing cards, and someone napping in the corner. At a young age I learned that bedrooms were communal spaces. That's why when I entered university I always kept my door unlocked and me and the other two South Asian girls in my corridor flowed in and out of each others room to talk or just keep each other company because we were each so far from home. My room is decorated with warm tones that are supposed to insight conversation and welcome all who enter. I even put a kettle for guests even though I'm American and can't make tea to save my life.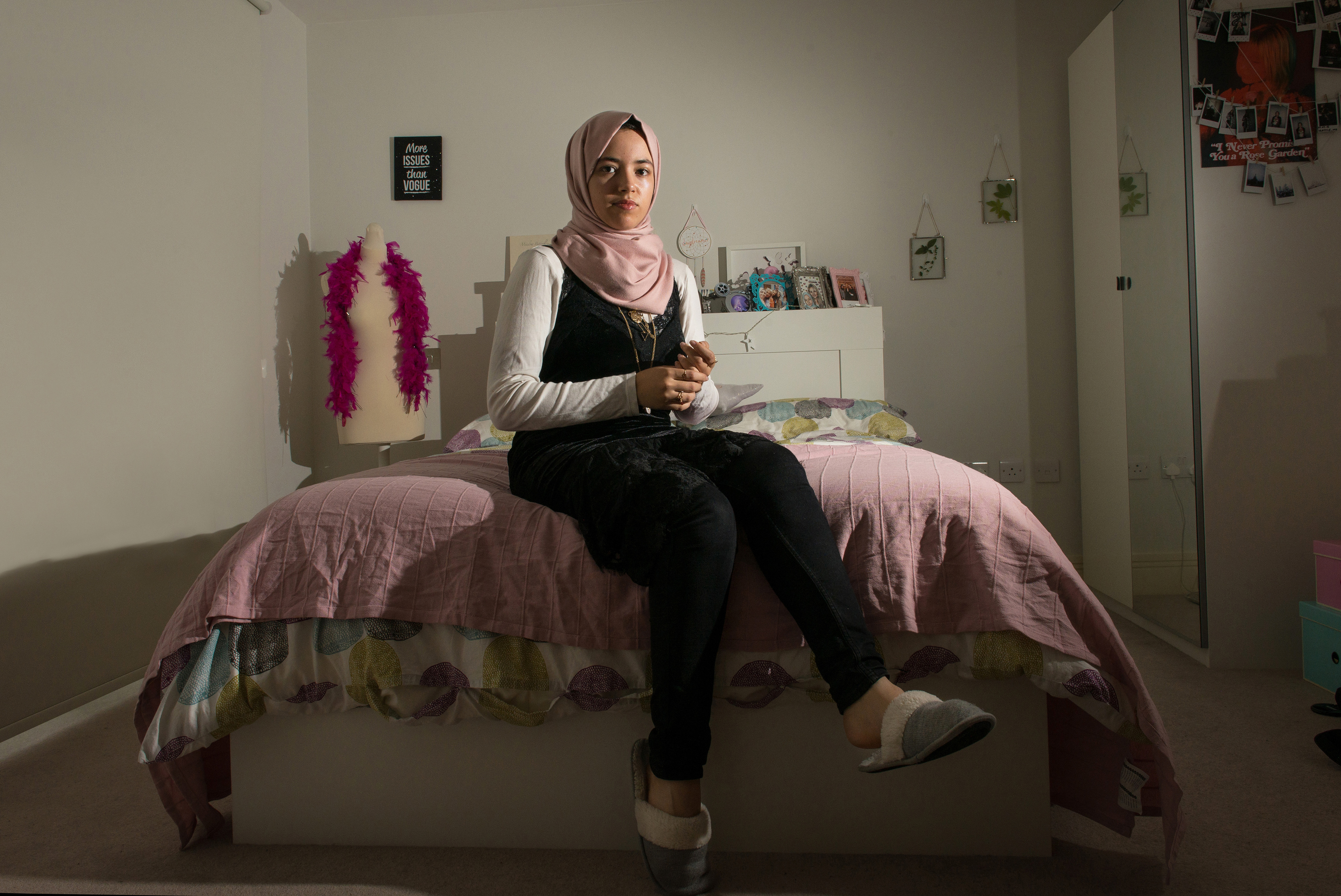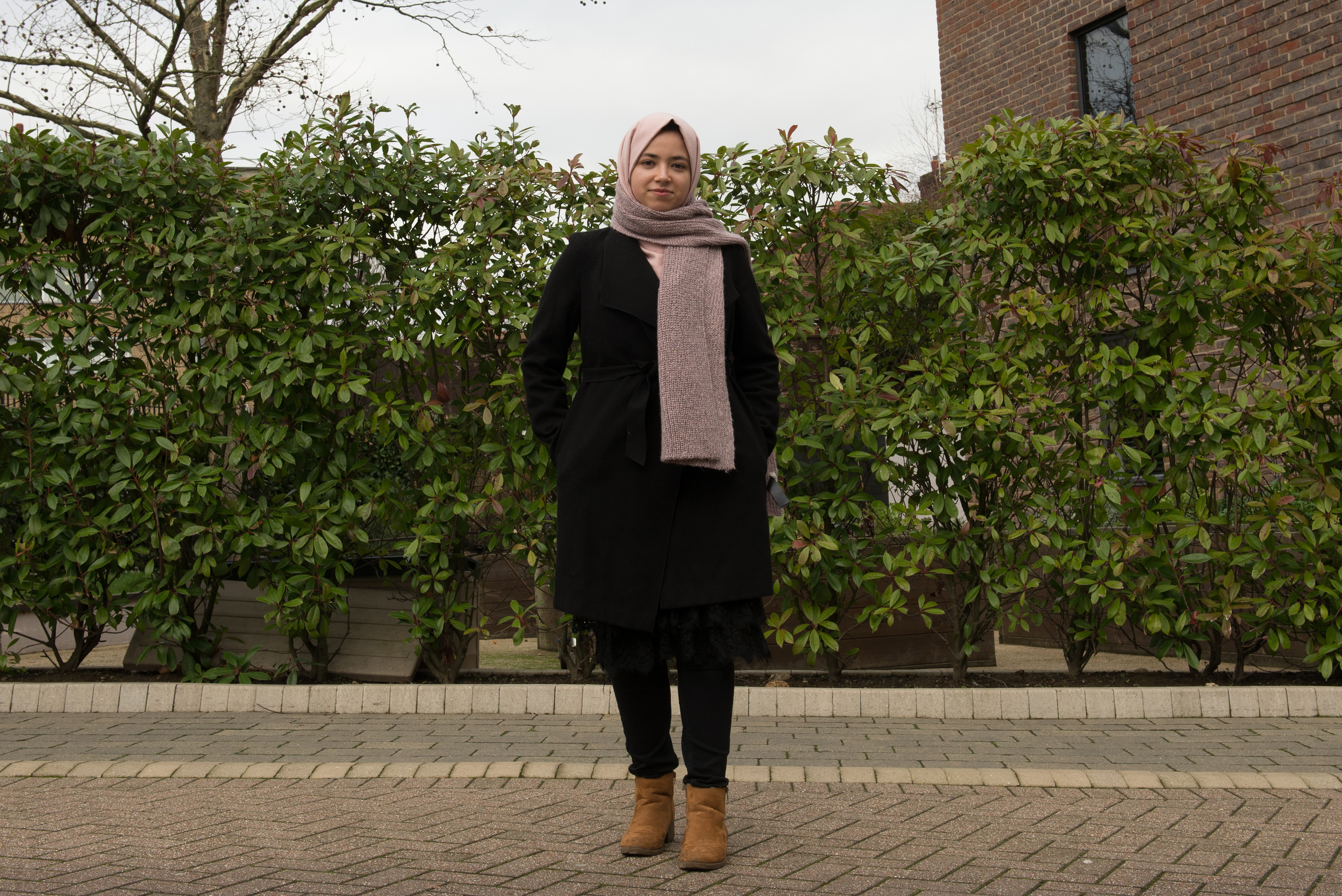 Ruaa Elmansuri, 21. Acton, London
Space is a very personal aspect of my life. I choose to share it with you because I wanted you to see how space defines us and the similarities it holds for all of us which are not just associated with Muslim women. I do not wear the hijab in the privacy of my own home, however I chose to wear it for this image to show that muslim women can do what they want. I was intrigued by this collaboration as i was able to control the representations of women like me and show an honest viewpoint. I participated in this project for the purpose of including viewpoints and experiences from perspective and to help challenge the way people define what space is for a Muslim women today.